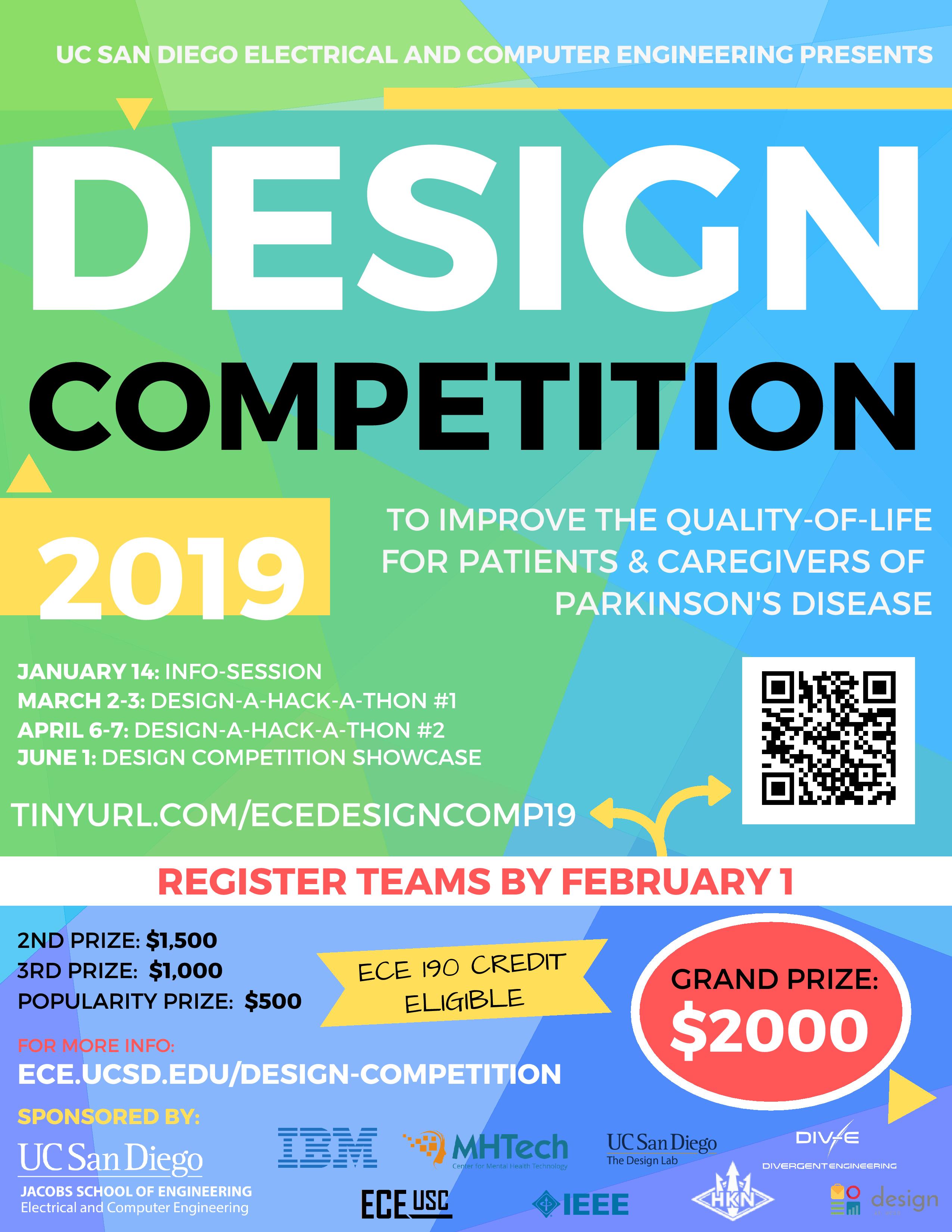 Student/Patient-Caregiver meetings

Feedback  from Patient-Caregiver

January 14, 6-8pm

Info. Session

 

 

January

Design Process Training

 

 

February 1

 

 

February

 Problem Understanding &      Solution Exploration

Feedback from Patient & Caregiver 

 

March 2-3

First Design-a-Hack-a-thon

 

Feedback from Mentor, Patient & Caregiver 

March

Prototype Development

TBA 

Feedback from Patient & Caregiver 

 

April 6-7

Second Design-a-Hack-a-thon 

 

Feedback from Mentor, Patient & Caregiver 

April

Prototype Development

 

TBA 

Feedback from Patient & Caregiver 

 

May

Prototype Development

TBA 

Feedback from Patient & Caregiver 

  

June 1

Competition 

 

 
Design-a-Hack-a-Thon #1 Schedule
Saturday Morning, March 2 (Warren Lecture Hall 2005)
9:00-9:10:        Overview of the Design Competition:   Truong

9:10-9:40:        Technology, Healthcare & Design:  Damon (IBM)

9:40-10:10:       Parkinson Diseases:  Challenge & Opportunity:  Ryan

10:10-10:40:     Design Process:  Don

10:40-11:00:     Question & Answer Session with Student:  Truong

11:00-11:15:     

Ideate like an Entrepreneur:  Rick

11:15-11:30:     

Presentation Template and Example:   Rakesh 

11:30-12:30:     Input from patients & Caregivers

Around 12:30:  Walk over to Jacobs Hall for lunch
Saturday Afternoon, March 2 (Jacobs Hall)
12:30-14:00:     

Meet & greet session with Patients and caregivers over lunch.  Students and mentors will be assigned to rooms.

  Patients and caregivers are welcome to join.  Patients and caregivers could leave at anytime.
14:00-17:00:     

Students work in team to come up with problems that they want to work on. Interaction/feedback with mentors.
Sunday, March 3 (Warren Lecture Hall 2005):   5 minutes pitch
10:00-12:00:    First 15 teams present

12:00-13:00:    Lunch

13:00-15:00:    Last 15 teams present
Evaluation Rubric
1. The Need: Was the project truly aimed at the needs of patients and caregivers of Parkinson's disease?  (10 points)
    The NEED assessment and definition (this will include how many times the team met with the patients and caregivers, the quality of the interactions, how well the team understood the need, and how well it was defined).
2. The Process (10 points)
•
The prototyping process (how well did the team test their initial ideas using rapid prototyping or equivalent methods.  
5 points
•
How well did the Prototype/Minimum Viable Product meet the need?   
5 points
3. The Solution: How good is the Idea and the Design? (15 points)
•
Quality of the Technical solution.  
10 points
•
How scalable/
commercializable
the idea is.  
5 points
4. The Presentation: Quality of the Presentation (5 points)
•
Oral presentation
: engaged audience, presented the information clearly, and stayed within allotted time.
•
Poster
: Information presented in such way that the need, process and solution are easily understood.
Total assessment: 40 points